So you're planning to have your hair done for a big occasion; you're a bride-to-be, a bridesmaid-in-waiting or attending an important event like a ball or awards ceremony? Hairstyling inspiration has found a home on Pinterest and I'd like to dispel the odd myth and offer 5 top tips on making the most of that great big mood board in the sky.
I always prompt my clients to look to Pinterest for ideas on hair and makeup. It may not offer up your perfect dream style in one hit, but you can put together a selection of images which will give me a sense of your style and the vibe of your 'do'. I use it myself to post images of my own work and other images which I find inspirational, aspirational and generally achievable for most people.
So based on many clients coming to their appointments with their screenshots and private Pinterest boards and my interpreting them, here's how I would advise getting the most out of your searches.
1. Search a description of what you specifically like – searching 'wedding hair' or anything too vague will bring up the same pictures again and again and often quite outdated styles.

2. Search for images in your own hair colour and length – the most common occurrence in my working life is for brunettes and red heads to show me pictures of ankle grazing fishtail braids and wispy halos of BLONDE hair. There's a reason for this though…its not your fault. Blonde hair is better to photograph if you want detail and texture to feature heavily. Blonde hair is typically courser through treatments and will behave beautifully around heated styling; there are simply more pictures around of blonde hairstyles. (Here are a couple of examples from my own Instagram feed which illustrate my point: while both beautiful, the blonde shows more depth and tone in photographs).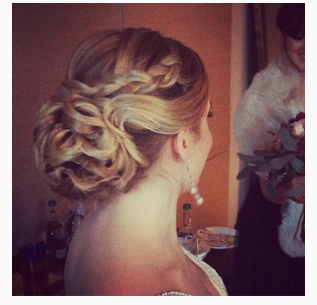 3. Texture and detail is also a challenge in real life – for the love of braids, if you have hair that is one colour and tone, brunette, fine and not massively long, then braids that create a feature in the front and side of your hair are *really not* going to look like this:
Braids eat up any volume you have in your hair – so great if it's thick and there's masses of it. Alternatively they can be quite piddly and token-esque in the hair type described above. We can more easily create volume in the main gathering of hair with clever padding underneath your own, leaving your hairline as naturally full as possible.
4. Save images which show multi-angles of the style – or consider that when you're viewing the back of a style in all its intricacies, that you also need to think about the front. How will it look in the mirror and from the other side which often isn't photographed?
5. Let your hairstylist create what works in your hair and will have staying power – bear in mind that Pinterest is for inspiration and awash with posed, recently teased, momentary snapshots. There is often a hairstylist behind the camera, artfully positioning the smallest strand, misting a shine spray and then 'click' – a moment in time. You want your hair to stay looking great all day/evening, right? Consider that certain styles can't be guaranteed to last 12 hours unless you invite me to the party and I bring my hair kit…
Carolanne x